Blog
A Better Way To Manage Your Custom Cabinet Shop
A Better Way To Manage Your Custom Cabinet Shop
---
Cabinetshop Maestro is cabinet making project management software. It is a web-based software solution expressly created for cabinetmakers and woodworkers.
Specially designed by a custom cabinet shop owner for fellow cabinet shop owners and woodworkers, Cabinetshop Maestro is a web-based software tool offering a better way for cabinetmakers to manage their business.

Organize, Orchestrate, and Optimize
Cabinetshop Maestro organizes and automates all of the management functions of your business.
It is easy to set up and integrates everything into one centralized location and acts as a virtual manager who will help you to organize, orchestrate, and optimize all the elements of your business.
Management Software for the Custom Shop
As the owner of a custom woodworking business, you are always looking for ways to improve your shop's productivity, efficiency, and profitability.
This can be especially challenging for the smaller custom cabinet and woodworking shops whose jobs are often completely unique from one to another and who commonly lack the support staff to actively manage all of the moving parts of running a business.
Cookie cutter, production management techniques and software tools are often geared toward higher-volume shops. These systems are expensive, have steep learning curves, and are rarely applicable to the small custom shop.
A Streamlined Solution
Cabinetshop Maestro software offers a solution for the custom shop. Our software is designed to streamline three key elements of running your shop:
1. The organization of job details, files, and discussions.
2. The management of multiple job's tasks, timelines, and schedules.
3. Tracking time and continuous analyzing for improved business results.
Cabinetshop Maestro gives you a better way to run your custom woodworking business with more control and peace of mind. It is simple to use and easy to access making it convenient for you stay up-to-speed on your business from anywhere, at any time. Cabinetshop Maestro will save you time and lessen your management burden so you can focus on what's really important to your business—satisfying your clients with high quality craftsmanship.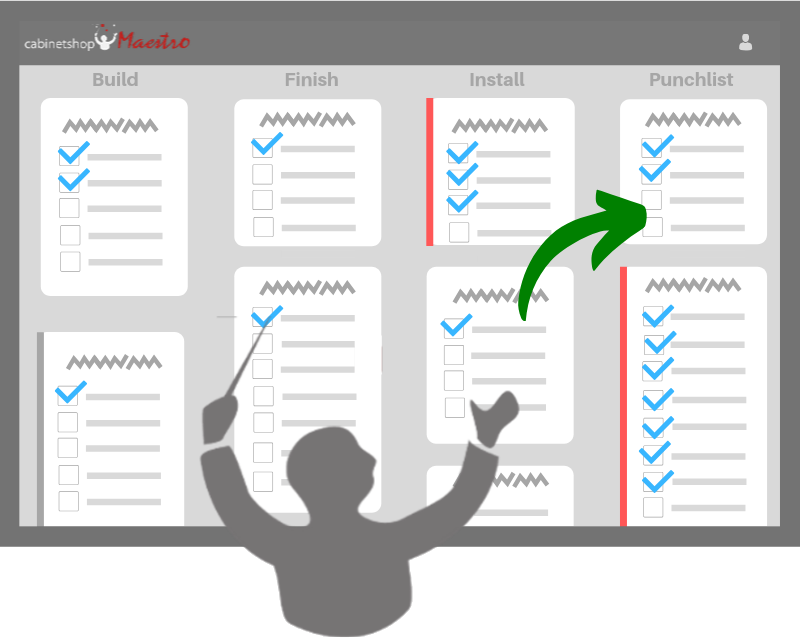 Try Cabinetshop Maestro® Today!
Nothing to download, nothing to install, and no contracts.