Blog
Cabinetmaking Pricing Software
Cabinetmaking Pricing Software
As a craftsman who has invested your time, energy and money into the art of cabinetmaking, ensuring that you receive a fair value for your work is a top priority. Whether you're a single contractor just starting out in the industry or the head of a well-established company, pricing projects to cover costs and generate a healthy profit is one of the most challenging aspects of the job. Fortunately, advancements in technology like our cabinetmaking pricing software are making it easier to raise your bottom line.
Assessing a Project's Value
Cabinetmaking is a highly competitive business where the ability to make pricing decisions can determine whether you gain a new client or lose one. Take advantage of modern software, and the task of guesstimating whether you've allocated enough funds for material costs and labor becomes more of a science than an art.
Accurate Woodoworking Estimating
With the right pricing software, working out an accurate woodworking estimate is easier. Simply punch in the relevant data and with a few simple clicks of the mouse or swipes of the finger, the estimate is calculated for you. These savvy computer programs allow you to include more than just costs for labor and materials. From services like insurance and utilities to tangible assets like inventory and equipment, all the expenses associated with your business can be factored into the equation.
Additional Benefits
To remain competitive, cabinetmakers need a quick, easy and systematic way to track all costs and labor time as a project progresses. Such business software can automatically generate reports to help keep your project on schedule and under budget, including:
Prioritized Employee Task Lists
Task Scheduling and Progress Tracking
Logged Time and Expenses Ledgers
Estimate vs Actual Detailed Job Reports
Optimize Your Profits
Providing you with the ability to estimate job costs in real time based on accurate information, cabinetmaking pricing software lets you improve your pricing and become more profitable. Once your proposal is accepted, the number of company prioritized task lists willl help you get the job done. You'll enjoy a reputation for completing projects on time and for delivering results that hopefully exceed the expectations of your clients.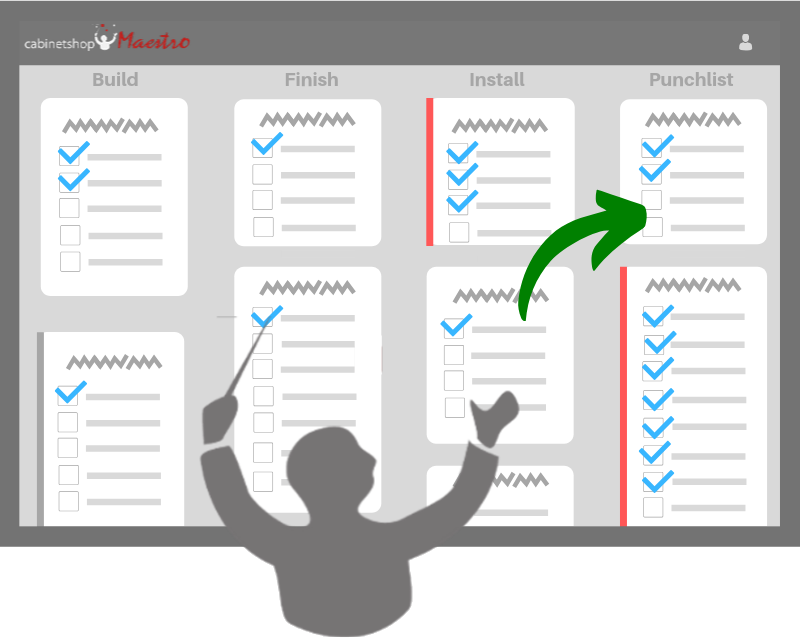 Try Cabinetshop Maestro® Today!
Nothing to download, nothing to install, and no contracts.