Blog
Professional Woodworking: Blogging for Jobs?
Professional Woodworking: Blogging for Jobs?
---
Looking for a low-cost way to get targeted leads for your business? Don't overlook blogging to help you bring in new business. More specifically, creating online content for your website on a regular basis to attract customers who are already online looking for the professional woodworking and cabinetmaking service you sell. Small business owners might need to redefine the perceived view of a blog. A business blog done correctly is an asset that every shop can use to grow their company.
Why Blog?
Those of us involved in professional woodworking know that there are key concepts standard to their ongoing success. A steady stream of good job leads that can be turned into paying customers is the ultimate goal of any marketing. Business blogging is one tool that you might want to add to your toolbox. It can help you:
Find people who are already looking for your service
Bring traffic to your website
Present your company as professional and specialized
What a Professional Woodworking Blog Should Be
You should create content and information for your website that a customer or potential lead wants to read. It should provide valuable information to a consumer that relates to the company's services. Blog articles can be 'entry points' into your website for people who are actively searching online for what you are writing about. You do not have to think that a customer will read all of your blog articles in succession. They will most likely 'enter' your website by reading a specific blog post and then most likely go to your home page or portfolio pages next.
What to Write Blog Posts About
As cabinetmakers, we have the perfect reason and muse to create content about…our recently completed projects. If you write a short blog post (around 300-600 words) about your completed jobs, you cancreate a diverse range of concise and targeted online content. Your job posts might include:
Before and after pictures of your work
Description of work; what type of wood, finish details and or and special circumstances
Relevant local information such as state, city, neighborhood, etc.
Be Specific
The posts should not only engage customers in a positive way but also create specialized content that is specific to what a future potential customer will be looking for. To do this, it is generally a good idea to be very specific in your descriptions. For example, it will be almost impossible to create enough quality content to show up in internet searches for 'custom kitchen' (too much competition)
,
but very possible to show up for 'custom cherry bookcases in Oklahoma'. This approach is referred to as using
Long-Tail Keywords
(this is a link to SEOMOZ- a great source of information regarding information about search engine optimization)
. By being specific about the details of your jobs in your posts, you will naturally accomplish this goal over time.
What a Professional Woodworking Blog Shouldn't Be
A business blog is never a place to rant. Companies need to use this social networking platform correctly by offering well-written content that relates to the services and solutions they provide to their customers. A small business owner should not create posts defaming politicians or discussing any topic that goes beyond the business scope. That is not productive and can be off-putting to potential customers.
How Blogging Helps Your Business
Blogging increases a business's internet presence. We live in a world where people go online for just about everything. The goal in blogging for your business should be to show up in internet searches with future customers.
Improve SEO
– Search engine optimization puts a website where customers can find it. Adding a blog gives the company one more tool to increase their search engine ranking.
Increase website traffic
– If done correctly, a business blog can be a source of good targeted (and local) traffic to your website.
Target long-tail keywords
– Keywords are a vital part of improving search engine ranking. Long-tail keywords add bonus words to the formula that help to refine organic searches. Instead of showing up in search results for a customer 500 miles away, a long-tail keyword can focus the search to the right city,for example.
Regular Updates
– Search engine algorithms take into account how often a website is updated. Blogs offer a way to add new content.
Communication
– One of the most important benefits is opening up the communication lines with customers and potential leads. A blog is the foundation of a multichannel marketing campaign that includes social media networking.
How to Get Started
A blog is an addition to your business website. The first step is to determine what it will take to add this new section to the existing structure. If you are starting from scratch, Content Management Systems (CMS) such as WordPress are website platforms that are designed for blogging and make it easy to add content on a regular basis.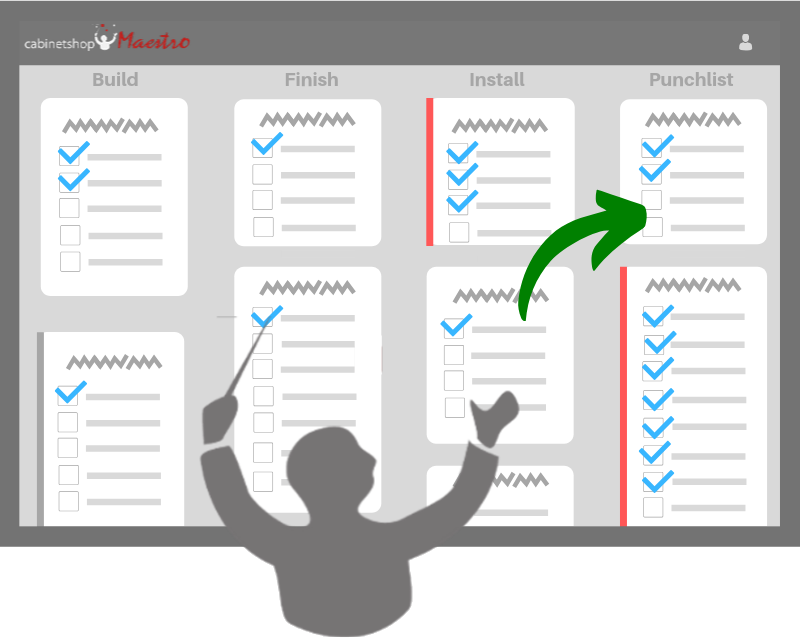 Try Cabinetshop Maestro® Today!
Nothing to download, nothing to install, and no contracts.