Blog
Time management woodworking shops
Time management woodworking shops
---
No matter the size of your woodworking business, it's easy to get overwhelmed when dealing with multiple jobs. The problem is that lack of organization can hurt your efficiency and the overall productivity of your woodworking business. In order to combat this problem and stay productive, it's smart to utilize
time tracking software
. With this in mind, let's go over some of the major advantages of time tracking software and how your woodworking business can benefit.
Time Tracking Software = Time Savings
Perhaps the biggest advantage is the amount of time you save when using multiple job time tracking software. When you're performing multiple tasks, it's easy to lose focus and not perform tasks in the optimal order. However, by using this type of software, you should be able to complete each individual task in an orderly and more efficient manner. Also, you will work in a more productive manner because the software should keep you more aware of how your progress is coming along and what exactly needs to get done. Once you understand the strengths and weaknesses of your business and how long you spend on each task, you can take the steps to maximize the positives and minimize the negatives. Since time is money, this can be an incredibly value asset for the day to day operations of your woodworking business.
Better Employee Management
Another benefit is that you can keep better track of your employees. While this may not be critical for some smaller businesses, it can be extremely helpful for others with employees. By keeping accurate data of when projects begin and their end time, you can get a better idea of how well or poorly your employees are performing. This way you can make the necessary adjustments and either reward or discipline workers accordingly. Over time, you can also analyze the data to gain an understanding of the overall productivity level of your shop as a whole.
"Actual" Time Reports
Along with this, you can effectively stay up to date on time card reports with multiple job time tracking software. For example, you will know the exact hours your employee's work, what tasks they are performing and how long it takes them to finish each task. After factoring in things like regular hours and overtime hours, you will know how much money you're spending on employee salary and what is being accomplished by the employee over the course of a day, a week, or month. This is very beneficial because you will know which of your employees is adding the most value to your business.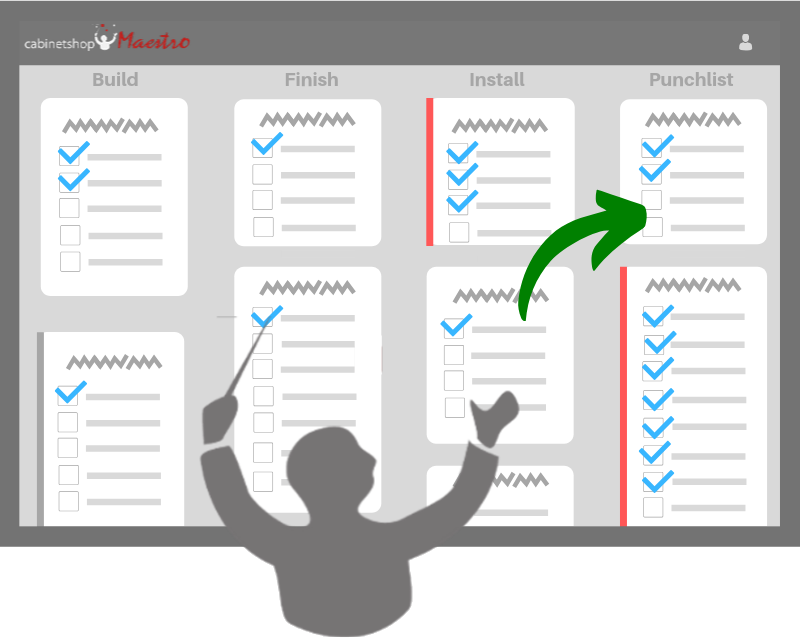 Try Cabinetshop Maestro® Today!
Nothing to download, nothing to install, and no contracts.