Blog
Woodworking Job Management Software
Woodworking Job Management Software
---
Before woodworking job management software was introduced the good old clipboard was the manifesto of information for every step in a cabinet completion. The employee at the table saw would sign off on his progress, the bench guys would record their time and progress on box assemblies, and the finisher would write down all of the finishing steps and formulas. When the job folder got back to the floor supervisor, he or she would have a bundled mess of crinkled papers covered in stain and paint. And those were just the papers that didn't blow away by the shop fan thrown out during night cleanup. Not to mention all the notes written on blocks of wood scattered throughout the shop...
The Software Difference
When a business decides to implement
woodworking job management
software, the main advantage that's instantly noticed is organization. In one centralized location, every member of the woodworking team can monitor a certain job's progress and plan their week accordingly. Plus, today's software is easy to use so even those with novice computer skills can learn the ins and outs of the program within a week. Smartphones and tablets make the possibilities endless, users can also use the software for much more than just tracking labor times and tasks. Each project will have all the necessary information associated with it, including drawings, prints, specs, and instructions.
The Owner Advantage
While employees on the floor will enjoy the fact that the job management software simplifies and organizes their job, shop owners and supervisors are the ones who really reap the benefits. The woodworking shop software improves the following areas:
Customer Service - when a client calls and asks about the progress of their job, you no longer have to hastily run through the shop, tracking down progress sheets. Instead, simply pulling up the project on the computer will give you an exact status and expected finish date within minutes.
Estimating - By tracking a job from beginning to end, sales people can refine their quotes and see where money is made and lost. Also, if certain steps are taking to long a supervisor can schedule more training or look at process improvement procedures.
Employee Monitoring - A supervisor can pull up the woodworking job management software to see if projects are repeatedly being held up by one employee and corresponding discipline can be made. Likewise, if a worker is consistently outperforming production requirements, proper accolades can be given.
If your business is surging or you aim to make it do so, an investment you should consider is
job management software
to increase efficiency and organization of your woodworking business.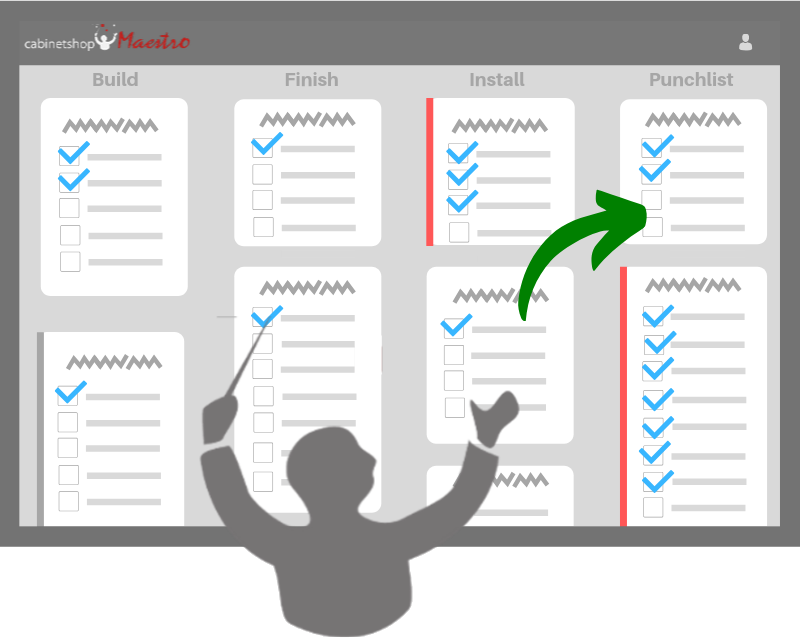 Try Cabinetshop Maestro® Today!
Nothing to download, nothing to install, and no contracts.